PRESS RELEASE
His Excellency Mr. Gautam Bambawale, Ambassador of India to Bhutan has handed a cheque for Rs. 1,756 million to Hon'ble Lyonpo Namgay Dorji, Minister of Finance this afternoon. The cheque is on account of Excise Duty Refund (EDR) for the year 2013.
The claim for the EDR 2013 was verified by a six member delegation from GoI lead by Dr. P.K Mohanty, Director General, Directorate General of Inspection, Customs and Central Excise (DGICCE) in November 2014.
As the EDR constitutes about 7.05% of the total revenue for the financial year 2014-2015, it will improve the fiscal position and contribute towards INR reserve build-up.
The release of EDR by GoI is timely as it will help in implementing the planned activities for FY 2014-2015 which will end by 30th June 2015.
The verification process for the refund of EDR for 2014 amounting to Rs. 1,943 million has been also completed. This will be released during FY 2015-16.
The Government of India refunds the Excise Duty Refund on annually basis as per Article VIII of the Bilateral Trade and Transit Agreement which states that "Each of the Governments agrees to provide appropriate refund to be mutually decided annually in respect of excise duties on goods of its origin exported to the other".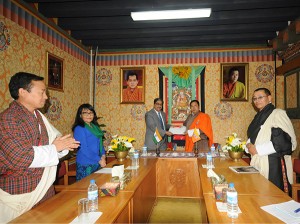 1,142 total views