Vision
Ensure efficient, effective, equitable and transparent budgeting system contributing to socioeconomic development.
Mission
Judicious allocation and monitoring of national resources through enhanced equality, transparency and accountability.
---
Organisation Chart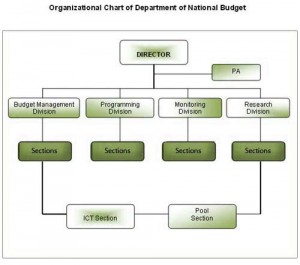 ---
Functions of Department of National Budget
The Royal Government of Bhutan attaches great importance to economy, accountability, efficiency and transparency in the management and utilization of public resources. In order to achieve these objectives, Department of National Budget has the mandate to formulate annual national budget, conduct mid-year budget review, facilitate interim budget revisions, conduct monitoring, develop sound budgeting system etc. The functions of DNB are broadly classified as Budget management Function, Programming Functions, Monitoring Functions, developing sound budgeting system
a. Budget Management
Budget management is a process that continues throughout the fiscal year. It consists of daily review of numerous operational and personnel transaction requests, assure legislative intentions of the budget are being complied with and carried out by the various departments and agencies. The detailed budget management functions are:
Coordinate and conduct mid-year budget review;
Review/analyze/assess the supplementary budget request of agencies;
Carry out technical adjustments of budget;
Issue and interpret budgetary rules, regulations & guidelines;
Incorporate externally funded projects;
Prepare and submit the quarterly budget situation report;
Preparing Budget Call, Budget Notification and National Budget Report;
Analyze and review complex accounting and budgeting transactions and recommend corrective measures and actions;
Provides advice, financial interpretations and corrective actions in response to financial issues, clarifications and quarries raised by various agencies;
Provide support and guidance to budgetary agencies on budget implementation and recommend corrective actions wherever necessary;
b. Programming
Under programming functions, DNB has the mandate to carry out following:
Coordinate and initiate preparation of annual budget;
Coordinate budget discussions;
Seek Government directives on budgetary issues and policies;
Issue Budget Call and Budget Notification;
Guide preparation of Multi Year Rolling Budget (MYRB);
Initiate and update MYRB system;
Organize workshops/seminars/training and meetings on budgeting and MYRB systems and
Prepare, compile & provide budgetary information.
c. Monitoring
The importance of monitoring is highlighted in Chapter III, Section 23 sub-section h of the Public Finance Act 2007 and further it is stressed in FRR as one of the principal objectives of sound budget system. Considering the importance of the monitoring requirement, DNB assumes the following functions:
Ensure efficient and effective use of budgetary resources through robust and constant monitoring of budget utilization;
Draw monitoring work plan;
Organize and undertake field visits;
Review implementation capacity of the budgetary bodies and suggest alternatives & recommendations;
Provide monitoring reports;
d. IT Section
This section supports the department organization in ICT related functions. The government budget preparation is fully computerized. The IT section has the following functions:
Assist in development of budgetary system;
Maintain the budgetary system;
Upgrade the budgetary system;
Periodically update hardware and software programs;
---
Divisions
DNB has four divisions and each division has agencies grouped according to sector which are; Social and Culture Sector, Economic and Communication Sector, Local Government Sector and Autonomous and Constitutional Sector.
These four divisions are mandated to perform all the above mentioned functions with the objective to provide one window service for the agencies. IT section provides support to all the divisions.
1. Social and Culture sector
This division is responsible for the following Ministry:
a. Ministry of Education
b. Ministry of Health
c. Ministry of Home and Culture Affairs
d. Ministry of Works and Human Settlement
e. Ministry of Labour and Human Resources
2. Economic and Communication sector
This division is responsible for the following Ministry:
a. Ministry of Economic Affairs
b. Ministry of Agriculture and Forest
c. Ministry of Foreign Affairs
d. Ministry of Finance
e. Ministry of Information and Communication.
3. Local Government sector
This division looks after the following:
a. 20 Dzongkhags
b. 205 Gewogs
c. Thromdeys
4. Autonomous and Constitutional sectors
This division looks after the following:
a. 5 Constitutional Bodies
b. 31 Autonomous Agencies
16,959 total views, 4 views today

---