The Public Procurement Policy Division (PPPD), Ministry of Finance has selected e-GP Logo through an open competition. The logo shall be in the public domain for one month from 4 October to 2 November 2016. If any individual/Organization has copy right issues or any other objection in relation to this logo, please contact Public Procurement Policy Division, Ministry of Finance at 336962 or email: dechenwangmo@mof.gov.bt
No disputes or complaints shall be entertained after 2 November 2016 after which the logo will be officially declared and used as the E-GP logo.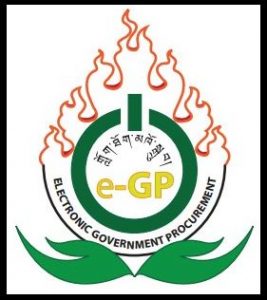 Description of e-GP logo:
The dark green power button sign ( ) symbolizes the electronic system of the Government Procurement, which will ensure e­ciency of work. The green colour symbolizes the environmental friendliness and continuity of the procurement system. The two green lotus leaves ( ), which take the shape of the palm of hands, symbolize the purity in the minds of both Government and bidders in discharge of the procurement functions. In case of any fraudulent practices, the red‑ame ( ), which over-archs the whole logo, will burn everything like the re that is unstoppable once started.The letters 'e-GP' on a white background symbolizes the transparent nature of the procurement.
1,119 total views, 1 views today