PRESS RELEASE
Transfer of RMA's Annual Surplus for FY 2017/18 to the Royal Government of Bhutan
The Royal Monetary Authority of Bhutan successfully closed its accounts for the financial year 2017/18 and submitted its annual surplus to the Royal Government of Bhutan on 3rd October 2018.
The cheque for the net surplus of Nu.1,550.24 million was handed over by the RMA to the Ministry of Finance in the presence of the Interim Government's Advisor to the Ministry of Finance, Dasho Karma Ura.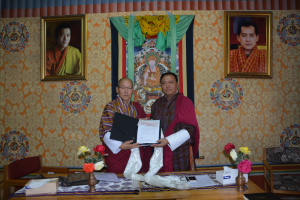 Compared to the net surplus transfer for FY 2016/17 of Nu. 1,001 million, the net surplus for FY 2017/18 has been the highest so far and reflects to some extent better reserve management, with net interest income from investment contributing Nu.249.81 million to the increase in the surplus. Gross international reserves remain at a little over USD 1 billion. These developments reflect the soundness of the economy and efficient management of reserves by the RMA.
1,598 total views, 2 views today