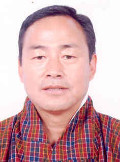 Dasho Nim Dorji was appointed by His Majesty the King as the new Finance Secretary on 14th July, 2016.
Prior to his appointment, Dasho served as Director General of Department of Agriculture in the Ministry of Agriculture and Forests. He also served as the Joint Secretary in the Ministry of Finance.
Dasho started his career in 1989 as trainee officer in the Ministry of Finance. He became the Director of Department of Public Accounts in 2007 and the Joint Secretary of the Ministry of Finance in 2012.
He holds a Master's in Business Administration from the University of Canberra, Australia.
1,803 total views, 1 views today