Customs administrations around the world celebrate 26th January as the International Customs Day with a dedicated theme under the auspices of the World Customs Organization. The theme for 2015 is "Coordinated Border Management – An inclusive approach for connecting stakeholders".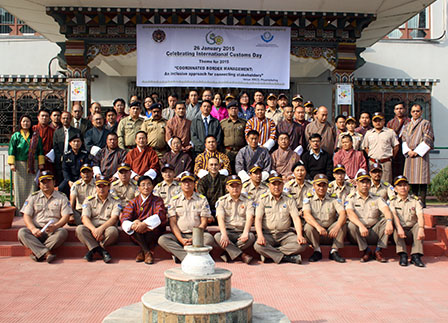 The Department of Revenue and Customs with effect from 2014 joined the global Customs community in formally celebrating this day. Regional Revenue and Customs office around the country are celebrating the day with the main event this year being organized in Phuentsholing and graced by the Hon'ble Finance Minister. On this day, the Department of Revenue and Customs awards WCO Merit Certificates to the best performing Customs officials as a recognition and appreciation for their hard work, dedication and integrity. The Department of Revenue and Customs also recognises those taxpayers who have good compliance record and best performing business entity by awarding certificate of appreciation on this day.
Considering the theme for 2015, the relevant stakeholders, border enforcement agencies and cross-border Customs officials of India, Nepal and Bangladesh also joined the celebration.
The Department also scheduled to launch Ozone Depleting Substance (ODS) manual publication on this day. The ODS manual is published in collaboration with National Environment Commission (NEC) under the financial assistance of UNEP and UNDP Multilateral Fund. ODS manual will facilitate and assist Customs officials as first hand reference in controlling illegitimate trade mainly focusing on controlling ODS import into the country.
Background
Bhutan became the member of the World Customs Organization (WCO) in February 2002 and currently has 179 member states. Internationally, 26th January is celebrated as "International Customs Day" under the auspices of WCO since the Convention establishing the Customs Co-operation Council was officially inaugurated in Brussels on 26th January 1953. In 1994 the Customs Co-operation Council adopted a new name – World Customs Organization. Subsequently, the Customs administrations of member States of the WCO organize various national events during the International Customs Day. The WCO on its part dedicates an annual theme that is officially declared on the International Customs Day entailing Customs administrations to devote their focus for that year on a particular topic.
1,331 total views, 1 views today