The Central Coordinating Agency (CCA) for Internal Audit Service under the Ministry of Finance provided Induction Training on "Fundamentals of Internal Auditing" to the new internal auditors from 4-8 March 2019 at the Professional Development Centre in Tsirang.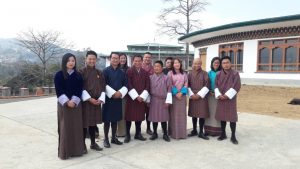 The training was provided for competency development of the new internal auditors who will be equipped on the fundamental knowledge and skills to execute the internal audit engagements independently. Additionally, it will bring a platform for a better coordination of internal audit functions where the new internal auditors will be able to gain an understanding and application of audit risk identification, audit planning, field work, and communication of results which incorporates the management's expectations.
Further, through the experience sharing session from the senior internal auditors, it aided the participants to know the practical issues and way- forward strategies to be applied in their respective agencies.
A total of 8 internal auditors from Dzongkhag, Ministry, Jigme Dorji Wangchuck National Referral Hospital and Thimphu Thromde attended the programme funded by the Ministry of Finance.
2,301 total views, 1 views today