At the invitation of the Royal Government of Bhutan (RGoB), a delegation led by Mr.P.K Mohanty, Director General of Inspection, Customs and Central Excise, Government of India (GoI) visited Bhutan for verification and finalization of the Excise Duty Refund claim of RGoB for the years 2013 from 21st to 29th November, 2014. The Bhutanese delegation was led by Mr. Yonten Namgyel, Director, Department of Revenue and Customs.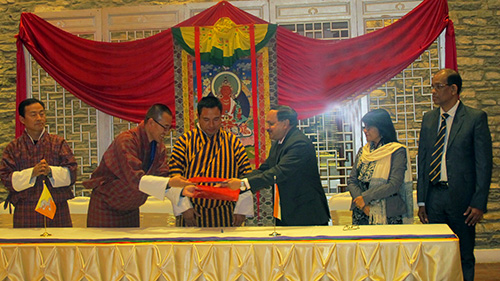 A meeting between the delegates of RGoB and GoI to discuss and finalize the Excise Duty Refund amount was held on 28th November 2014. The total excise duty refund agreed for the year 2013 is Nu.1, 756,296,502 (One Thousand Seven Hundred Fifty Six Million, Two Hundred Ninety Six Thousand, Five Hundred Two)
The Royal Government of Bhutan, with the help from Indian Embassy in Bhutan received Nu. 2,038,535,819.00 (Two Thousand, Thirty Eight Million, Five Hundred Thirty Five Thousand, Eight Hundred Nineteen) from GoI in May 2014 as the Excise Duty Refund Claim for the year 2010.
The decrease of Nu. 282,239,317 in the Excise Duty Refund Claim for the year 2013 as compared to that of EDR Claim for the year 2012 was mainly due to the ban of imports. However improvement of proper record keeping attributed to significant increase in the claim over the years.
The refund of excise duty is made only on excisable commodities imported from India. Although most of the commodities are subject to levy of excise duty in India, however, there are specific exemptions issued by way of notifications by GoI on goods of special interests. Furthermore, since imports made by Hydro Power Projects in Bhutan are exempted from excise duty at source, no excise duty refund claims are made for the imports made by these projects.
1,102 total views, 1 views today