PRESS RELEASE
Loan Signing on March 10, 2017
The Royal Government of Bhutan and the World Bank signed today the Second Fiscal Sustainability and Investment Climate Development Policy Credit (DPC2) of US$24 million, which will help improve fiscal sustainability, access to finance, and investment climate.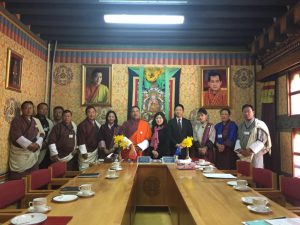 Bhutan has made impressive progress in poverty reduction and economic growth over the past decade. At the same time, high levels of investment in the hydropower sector have increased pressures on the country's fiscal balance and external accounts.
The credit was signed by Lyonpo Namgay Dorji, the Royal Government of Bhutan's Finance Minister, on behalf of the Royal Government of Bhutan, and Mr Yoichiro Ishihara, Resident Representative for Bhutan, on behalf of the World Bank.
This credit is the second of two operations to support Bhutan's Eleventh Five-Year Plan (11th FYP) (2013–2018) goals of promoting green socio-economic development and achieving self-reliance. DPC2 was approved by the Board of Executive Directors of the World Bank on December 21, 2016.
740 total views, 1 views today