The Department of Revenue and Customs, Ministry of Finance, Thimphu is organizing its 6th Revenue Meet from 25th – 27th December 2019 at the Regional Revenue and Customs Office, Gelephu with theme "efficient and effective services through digital transformation".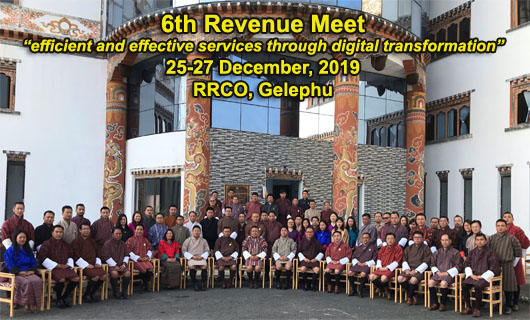 As the Nation implements its 12FYP, the DRC as one of the important arm of the Ministry of Finance is meeting in Gelephu over next three days to take stock of issues and review our strategic plan and priorities with an objective to improve the service delivery to the taxpayers, facilitate cross border trade, contribute towards Government's aspirations of economic self-reliance and ultimately play our part in promoting Gross National Happiness. The meeting will focus on innovative ideas, policy reforms, simplification and harmonization of procedures, enhance efficiency and effectiveness in the delivery of services to the taxpayers and discus on smart taxation systems for better economic prosperity.
It is also an opportunity for the Department, eight Regional Revenue and Customs Offices, Liaison and Transit Office and border checkposts to come together to share experiences from field, ensure uniform application of the rules before the onset of tax season from January 2020. A total of more than 70 key officials covering twenty dzongkhas are participating in this meeting.
877 total views, 2 views today